Greig Chirstmas Tree Farm  Of Lake County Wins Ohio State Fair…
FRAZEYSBURG, OH — Greig Christmas Tree Farm in Lake County not only walked away with the honor of exhibiting the Grand Champion Christmas Tree at the Ohio State Fair but they also exhibited the Reserve Champion Christmas Tree. This year's winning tree was a Canaan Fir and the  Reserve Champion was a Blue Spruce .  Brothers Jeff and Doug Greig and mother Betty Jean will have the opportunity  to represent Ohio in the 2018 National Christmas Tree competition.
The trees in the competition were selected from trees submitted by growers from across the state of Ohio.  They were also judged by a panel of judges consisting from The Ohio State University faculty.  The primary factors considered in the judging included shape, fullness, color and overall appearance.
The trees will be on display at the Ohio Christmas Tree Association booth for the duration of the  Ohio State Fair.
Other contest winners include:
Fir
First:  Greig Tree Farm in Lake County
Second:  Twinsberry Christmas Tree Farm of Wayne County
Third:  Galehouse Tree Farm in Wayne County
Pine:
First:  Galehouse Tree Farm in Wayne County
Second:  Hidden Pines Christmas Tree Farm in Sandusky County
Third:  Twinsberry Tree Farm in Wayne County
Spruce
First:  Greig Tree Farm in Lake County
Second:  Kaleidoscope Farms  of Hancock County
Third:  Twinsberry Tree Farm in Wayne County
During the fair, attendees  will have the chance to vote for the People's Choice award. This award will be announced following the fair.
If you would like any further information on the OCTA or their activities, please contact the OCTA Office at 740-828-3331.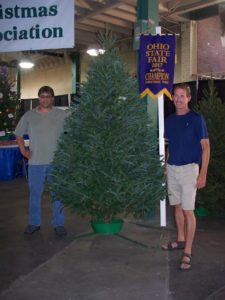 Operation Evergreen Responses…
Operation Evergreen was a huge success and many soldiers overseas were thankful for the trees and notes they received…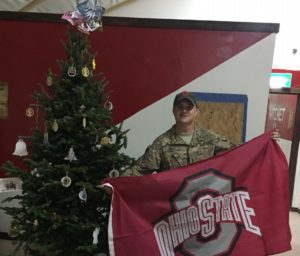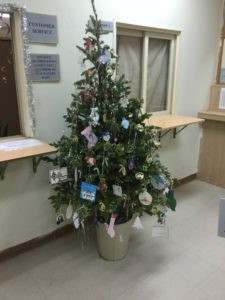 2016 Operation Evergreen a Success!
Another year of success for this great project. A big thank you to all who donated trees, collected ornaments and came and helped pack up the trees. This event would not go as smoothly if all of you didn't help. UPS was fantastic to arrange for transport at a very great rate—we easily covered the cost of shipping with a little ahead to start for next year. If we collect enough donations towards shipping earlier in the year, we could offer more than 100 trees to be sent overseas. An extra thanks to Akers Packaging in Middleton who donated the boxes for the trees and Mike Wertz for arrange the donation …also a big thanks to Mike for rattling cages at ARCENT and getting our approval for shipping to us at the last moment. Take the time to check all the TV coverage we received from Channels 4,6 &10 out of Columbus on the 15th of November, and Channel 8 & 3 in Cleveland on the 14th.  Thank you to Sugar Pines & Homestead Farms for letting the cameras on your wonderful tree farms.
Thank you to all again—Great Job—the troops will enjoy the trees!
Have a Very Merry Christmas !
Amy Galehouse, Galehouse Tree Farms